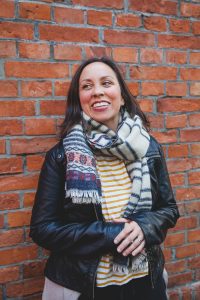 I teach yoga because I want to help people feel at home in their bodies. To me, nothing is more essential than connecting with your own sense of health and well-being. When you feel aligned and connected to your authentic self, you create space to share yourself with others and have a positive impact on the world. Yoga has been this kind of vehicle for me since I accidentally fell in love with it in 1999. I had just moved to New York City to pursue my dance career. I went to a class at OM Yoga Center (the original location!) with my best friend. Turns out they needed someone to work at the front desk and I needed a job. I got to take free yoga classes and was immediately hooked. In the same way I had fallen for dance, yoga felt like coming home—home to my body, my true self, a way to be at home in my own skin. Through our bodies, our senses, we experience the world.
The blend of rigorous Vinyasa yoga, the moving meditation of poses and breath occupying the same conscious space and informing one another, continues to fascinate me. My teaching emphasizes proper alignment and mechanics, but is led first and foremost by a sense of humor, compassion and ease. I also integrate my love of music. I've been teaching public classes and private clients for over 15 years now in various contexts: yoga studios, health clubs, senior citizen centers, prenatal classes at Beth Israel Deaconess Medical Center in Boston, as well as to a crowded room full of 60 college students at Arizona State University during my graduate school years. I extend my deepest gratitude to my primary teacher Cyndi Lee and all my other teachers on this path. Teaching has been a source of joy and my constant guide through many changes throughout my life.
Upon moving to Berlin in 2009, I found a wonderful yoga community at Yoga Sky in Kreuzberg. Teaching in German is always a work in progress, but the folks at Yoga Sky have been super supportive. I'm hugely indebted to my yoga auf deutsch mentor, the kind and ever-fierce Detlev Alexander, as well as to Stefanie and Manu Berndt and the fantastic yogis at Kalaa Yoga in Prenzlauer Berg, who have made me feel so at home.
In January 2016, I completed my 500-hour Yoga Alliance certified OM Yoga teacher training again with Cyndi Lee. This program was an in depth study of asana alignment, best teaching practices, pranayama, Buddhist Shamata meditation and restorative yoga. I feel I've refined my teaching style, while always remaining a seeker of ways to evolve my teaching.
Since 2016, I am also a certified Yoga for Cancer teacher. I am hugely grateful for the opportunity to work with clients in their treatment and recovery process. It has been hugely gratifying and gives me great joy and even greater appreciation for the practice of yoga.